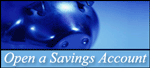 SHARE ACCOUNTS:


LOANS:

Auto, Boats, RV's, Motorcycle Loans, and other secured (UCC-1)
VISA - 12% APR with no annual fee
GAPP (Guaranteed Auto Protection Plus)
In the event your vehicle is deemed a total loss due to an accident or theft, your auto insurance may not cover the amount owed. For a minimal cost, GAPP would make up the difference in addition to paying $500.00 toward the deductible and $1,000.00 toward the purchase of a replacement vehicle.
SHARED BRANCHING SERVICES
SAFETY DEPOSIT BOXES - Various sizes available, ranging from $20.00 to $70.00 annually.
LIFE & DISABILITY INS. ON LOANS - Mortgage loans excluded.
HOME BANKING

E-STATEMENTS
ATM & DEBIT CARDS

M
ONEY ORDERS,
CERTIFIED CHECKS, NOTARY SERVICE, DIRECT DEPOSIT
PAYROLL DEDUCTION BILL PAY

AUDIO RESPONDER