SHARED BRANCHING SERVICES
Remember no matter where you are, shared branch service centers are just a fingertip away. Call 1-888-748-3266 or go to http://www.co-opsharedbranch.org to find any of the nearly 2,800 locations. Just have a photo ID and know your account number to request transactions.
SECURITY & SUPPORT:
Your online security is important to us. KFFCU takes precautions to ensure our members accounts are safe & secure. We do not sell personal information to third parties, as keeping information confidential is of upmost priority. Enhanced Authentication provides extra protection for identity when your computer or usage patterns are questionable.
You, the member, can do your part by using an anti-virus software and routinely run it to check for viruses. Also, always choose strong passwords and never give them out to anyone. Keep in mind, the credit union would never call and ask you personal information such as social security number, etc. Do not give personal information to anyone.
In addition, we will immediately correct any inaccurate information that you alert to us. Contact us at 865-688-0498 to report suspicious activity or security related events. We appreciate the confidence that you have in Knoxville Firefighters FCU and our ability to protect our member's information.

To help with any financial planning, we have the following links to help answer any of your questions:
Home & Family Finance Anytime Advisor http://googolplex.cuna.org/29513/
"Rescue Protection" for Share Draft accounts
Effective January 1, 2007 the credit union began offering "Rescue Protection"service for those members with a share draft account in good standing. With this service share drafts, debit card transactions and 3rd party withdrawal transactions that would have previously been returned for non-sufficient funds will be honored, allowing your account to go negative up to $300.00. The fee is $30.00 per item, the same as a return nsf fee, without the further cost and embarrassment of a returned check.
GAPP AUTO PROTECTION
What is GAPP? If your vehicle is totaled or stolen and the insurance payoff leaves you with a balance, Gapp coverage will pay it off. However, remember when making that deal on your new vehicle, don't let the dealer sell you GAPP. Dealers will price it anywhere from $500.00 to $1000.00. Your credit union offers the same coverage for $300.00. That's a one time charge lasting over the entire contract of the loan.
Verified by Visa is a unique service that uses personal passwords to help protect Visa card numbers against unauthorized use. Our cardholders are now protected with Verified by Visa for free. Once you activate your card, no one else can use your visa card number at participating online stores without your personal password

.
Remember to look for the MONEY PASS, CU HERE or EASY STREET for free ATM access.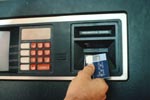 M E M B E R B E N E F I T S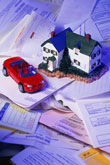 Click the link below to get an Auto Insurance Quote:
http://WilliamKnight.ConsumerRateQuotes.com/consumer/default.aspx